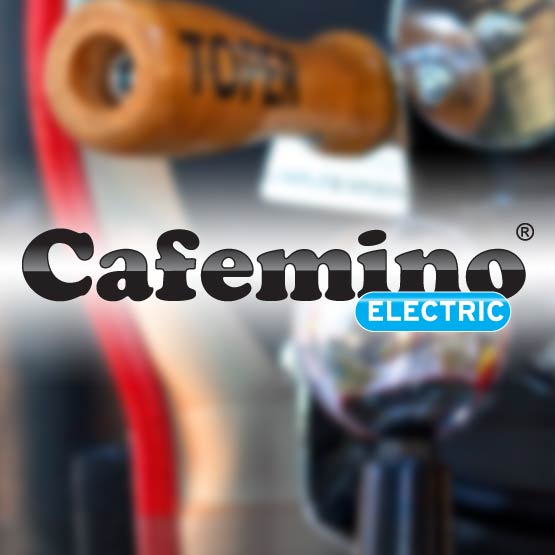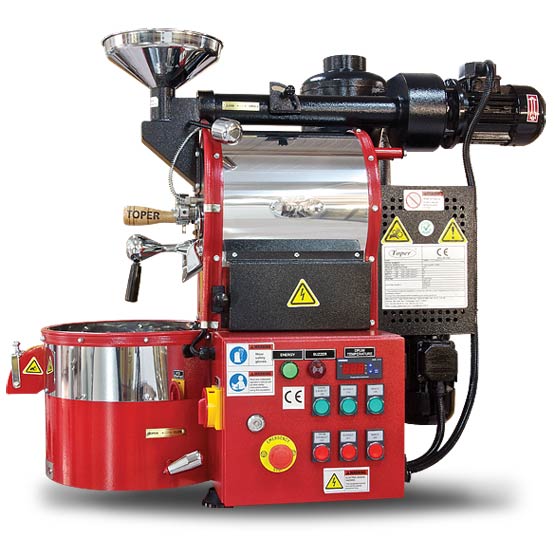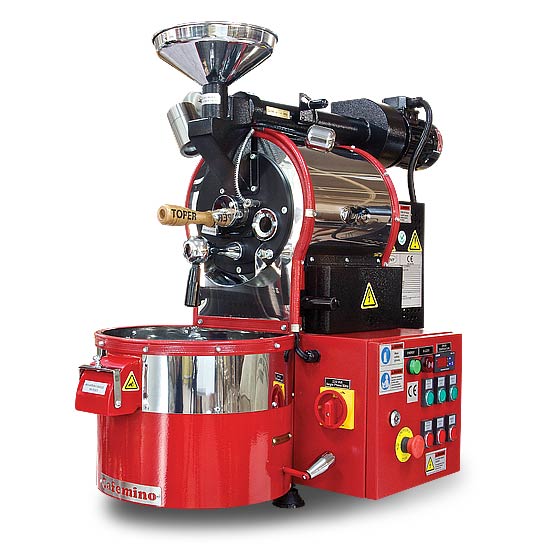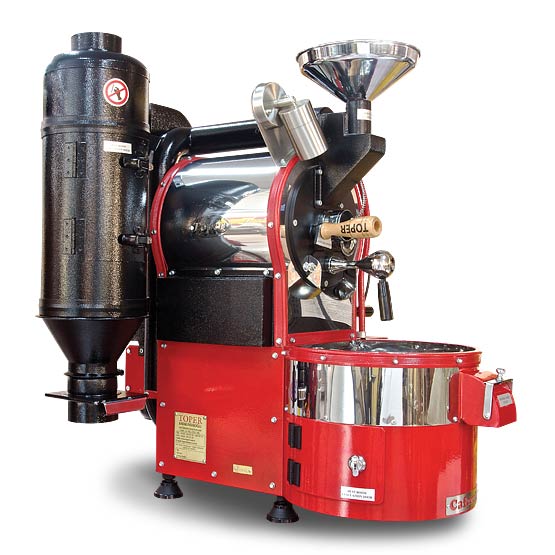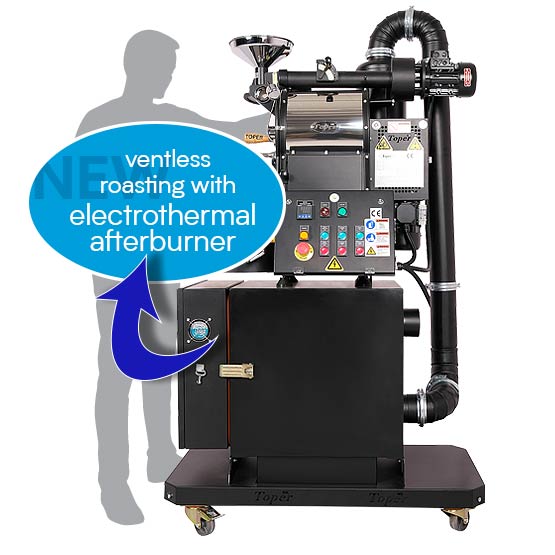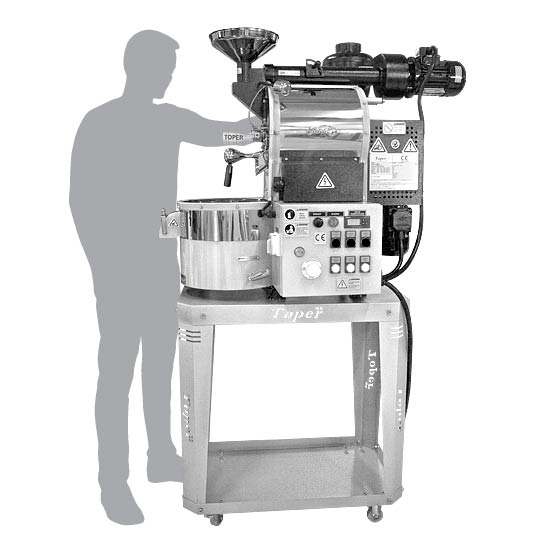 Super roasting performance on table-top
Cafemino® Electric offers superior roasting quality and industrial performance at cafes and market chains. Coffee enthusiasts in in Europe and USA were engaged Cafemino® Electric for home use since 2010 for its 50 g/batch roasting capability.
Cafemino® Electric is ideal for cafe owners, micro-roasteries and retail chains, as well as quality labs of some major roasteries which do not prefer gas system. Cafemino® Electric offers roasting capacity up to 6 kg/hour and continuous running up to 10 hours.
Cafemino® perfectly accomplishes every kind of sample roasting for wholesale. Coffee's sensory properties (smell, aroma, taste, etc.) will be perfecty discovered and consistent, right profiles are created with very small batches. Cafemino® is widely preffered by the leading coffee roasters of the world.
Standard features & equipment
Capable of roasting 50 - 1,000 g per batch
Roasting up to 6 kg/h
Slow / fast roasting
Adjustable digital thermostat
Hot air regulation valve
Green coffee chamber sight glass
Sampling spoon and sight glass for roasting control
Special color temperature light for color testing
High performance cooling tray and fan system
Simultaneous roasting and cooling
Seperate cyclone chaff collector (free)
Chaff collection drawer under the drum
Cropster compatible profile roasting option
Exclusive stand
Hard case shipping
Cafemino clients receive special free roasting training at Toper Coffee Academy.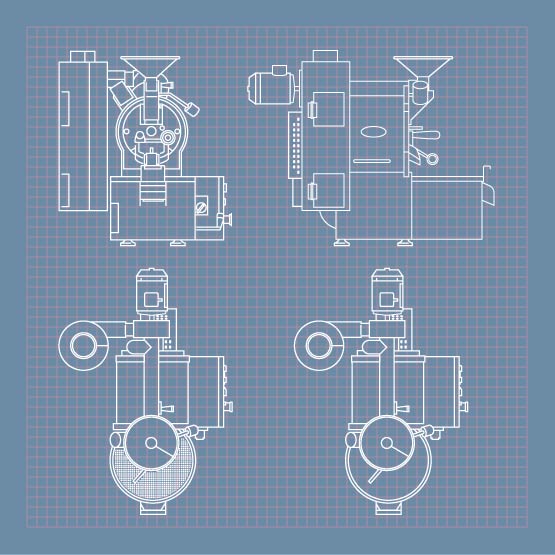 Technical drawing is a general blueprint of the product series and it is for illustrative purposes only. Please contact Toper for the exact technical drawing of the model of your choice.

Vivid Red
Forest Green
Brown
Black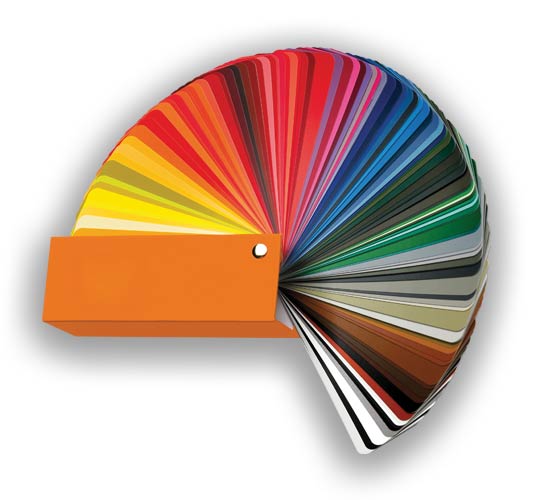 Wide range of optional colors are available in RAL and other color matching systems for Cafemino® mini roasters.
Metal sheet options are:
TKM - SX1E Cafemino® Electric
| | |
| --- | --- |
| Roasting capacity (kg/h) | Light 6 - Dark 5 |
| Roasting time (minutes) | Light 10 - Dark 12 |
| Batch capacity (kg) | 50 - 1,000 g green coffee beans |
| Dimensions (W-H-D) cm | 81 x 100 x 52 |
| Recommended installation area (W-H-D) cm | 100 x 150 x 100 |
| Weight (kg) | 95 |
| Voltage | 110 - 220 - 230 - 380 - 415V |
| Frequency | 50 - 60 Hz |
| Heat source | Digitally controlled - 5.5 kW |
| Heating system | Electric heated thermal transfer |
| Number of motors | 3 |
| Power consumption (kW/h) | 5.57 |
| Power requirement (A) | 1PH 25.3 - 3PH 14.6 |
| Body type | Stainless steel, brass |
| Ambient temperature range (°C) | +4 / +40 |
| Exhaust outlet Ø (mm) | 100 |
| Air volume requirement (m3/h) | 250 |
| Standards | MD 2006/42/EC, LVD 2006/95/EC, EN 291-1:1991, EN 292-2:1995, EN 294:1992, EN 6020-1:1997, EN 1050:1996 |